VINTAGE DRESSER SET, Celluloid Powder Jar, Celluloid Hair Receiver, Celluloid Hairpin Dish, Celluloid Nail Implement, Dresser Set, Powder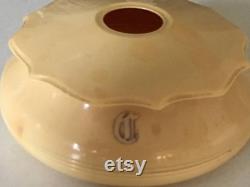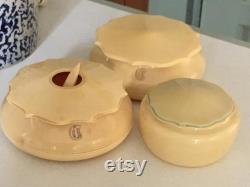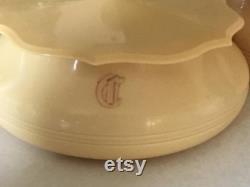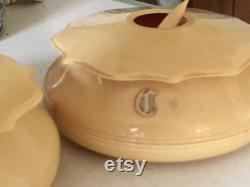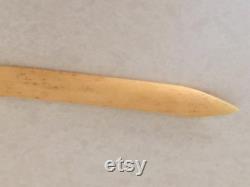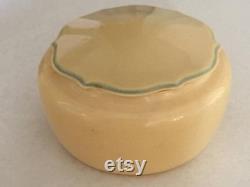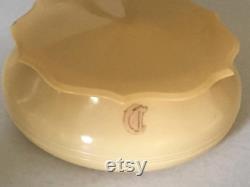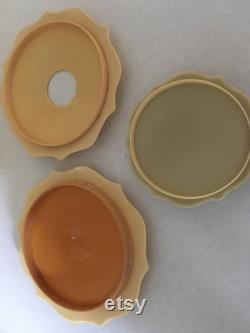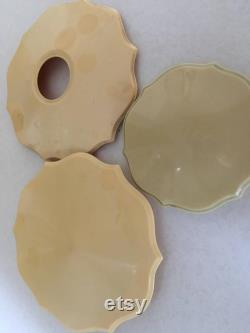 This neat set consists of a monogrammed powder dish and hair receiver. In the 40's, loose powder for face and body was kept in a dish like this. For the hair receiver, the ladies pulled the hair from their brushes and inserted it into the hole in the hair receiver. When the hair receiver became full, they sewed the hair into small fabric rectangles or squares, and pinned these into their hair to provide lift.
The set also includes a smaller hairpin container, which goes very well with the set, but is not monogrammed. It also includes a nail implement. The monogram on the hair receiver and powder dish is i believe, a "d"; but could also be an "a" or a "c". The lids are scalloped, and the hairpin box has green around the scalloped edge. The hair receiver is approx.
4 1/4" x 4 1/4", as is the powder container. The hairpin container is approx. 2 3/4" x 2 3/4" and approx. The hairpin container is slightly lighter in color. The nail implement is pointed on the end, and approx. The powder container is a peach color on the inside, and on the underside of the lid. This set is in beautiful condition, and would be a pretty addition to your dresser. All of my items are vintage and can show signs of wear and tear. I attempt to describe them the best i can, but possibly will occasionally miss something.
This item is made of celluloid.

---