Vintage Helena Rubenstein Powder Box and Charles of the Ritz Made to Order Face Powder Box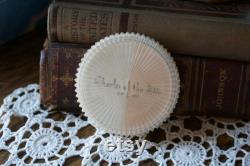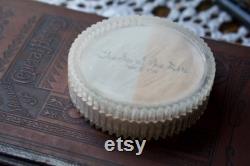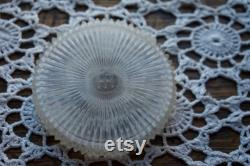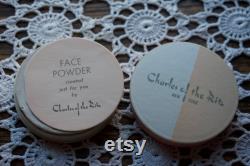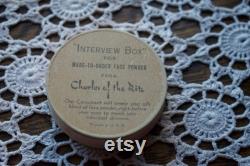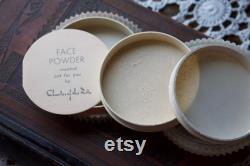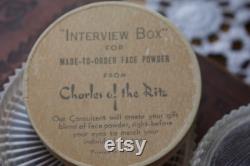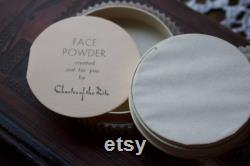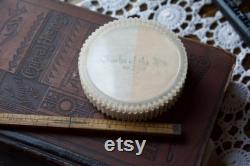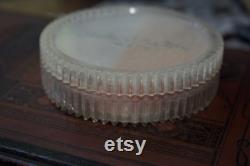 Vintage helena rubenstein powder box and charles of the ritz made to order face powder box. This is a combination of two products. I'm offering them together because the charles of the ritz box fits perfectly inside and this is how they sat on my grandmother's dressing table my entire life. Plastic helen rubenstein plastic powder box--a round box to set on your dressing table, it is marked "hr" on the top in the middle of a sunburst that extends down the sides of the lid and the bottom of the round box. This is made of clear plastic that looks pleated. The bottom has some thin lines on it, but they aren't cracks.
I'm not sure what they are. Charles of the ritz "interview box" for made to order face powder. She'll bring it back to have it filled with her very own face powder made to order exclusively for her. This is a small cardboard box that is pink on the sides and the top has a white and peach design with "charles of the ritz new york" printed on it.
The original paper that kept the powder from spilling out is still here, as is a tiny bit of powder still in the box. These would be sweet together or separately on a vintage dressing table or in a powder room as decor. Your powder boxes are gift wrapped for free they arrive carefully packed in a red and white poppies tissue paper wrapped white jewelry box, tied with raffia or sheer ribbon, within a padded, sturdy mailer or box, ready for giving or enjoying yourself between thanksgiving and december 31, white tissue paper decorated with silver stars is used, and tied with red and white sheer ribbon, or black and shiny white raffia.
You can also upgrade to a kraft wrapping paper with ribbon. Please click on gift wrap to see example. My east tennessee appalachian grandmother's estate is a treasure trove of kitsch and folk art and other treasures from the 1920s to the 1980s, with stuff thrown in from the teens and the 90's just to keep it interesting please keep checking back with mei'll list my finds as i come across them. This item is made of plastic and cardboard, powder.

---