Vintage Luxor Cameo Powder Box, Vintage Celluloid Victorian Powder Box, Vanity Décor and Storage, Neutral Palette Ivory Décor Accent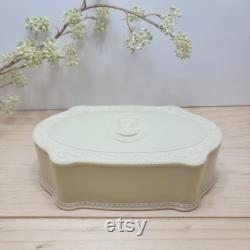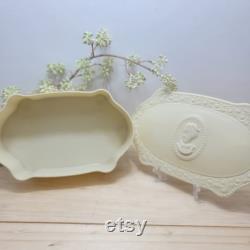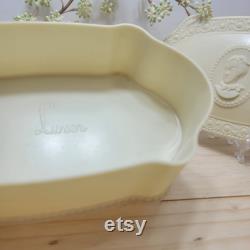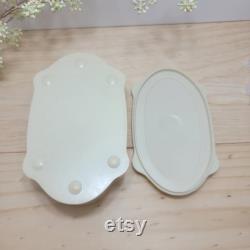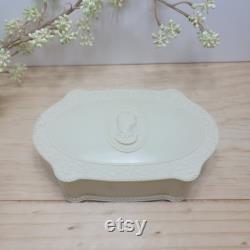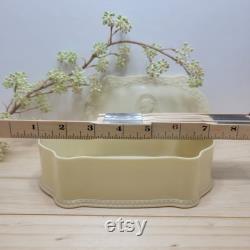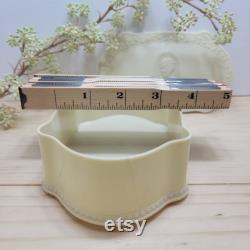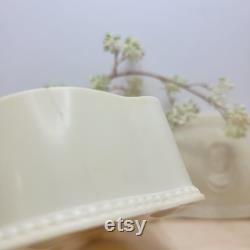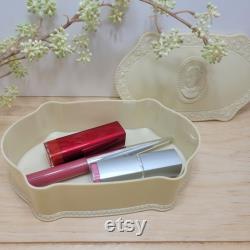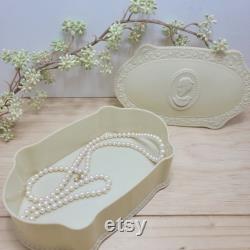 Vintage luxor cameo powder box, vintage celluloid victorian powder box, vanity décor and storage, neutral palette ivory décor accent. Please read the full description before purchasing. This is a lovely loose powder box made of celluloid, a popular plastic used during the 1800s and first decades of the 1900s. It has a relief cameo attribute to be madame pompadour and a pretty art nouveau floral and beaded design around the edge of the lid and the side of the base. The box measures 6 1/4" in length, 4" wide and 1 3/4in height, an ideal size to be used as a jewelry or trinket box.
It has an old crack on one side, as shown on pictures. But other that that, this box is in very nice vintage condition considering is close to 100 years. Please keep in mind that the items in my shop are preloved and show signs of aging. I try my best to accurately describe each item and its flaws. To the best of my knowledge description are correct, but i'm not an expert or antique/vintage dealer.
Please see very carefully all the pictures as they are part of my description and detail of the item. The color on the pictures may not reflect the exact color of the item due to multiple factor such as, differences in lighting, camera or your screen settings. I do my best to make accurate measurements, and they are very close to the listing description but sometimes they may be off a bit due to textures and shapes. Please always use the -/+ rule.
I love to stage the treasures i find and give countless ideas of possible ways to use or repurpose them, but accessories and props on the listing pictures are not part of the listing. The listing is solely for the item described. As a friendly reminder, by purchasing this item you're agreeing and acknowledging that you read and understand the full description and saw all the pictures of this item. Also, accepting all the policies of blue hues vintage co. Thank you for browsing, i appreciate your business and support happy shopping.
This item is made of celluloid.

---