Vintage Musical Powder Box Courting Couple Make Me A Figgy Pudding Tune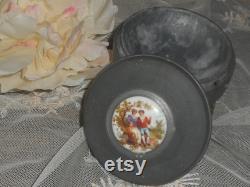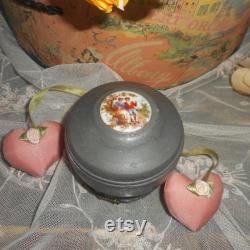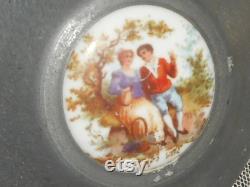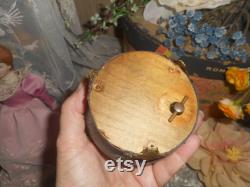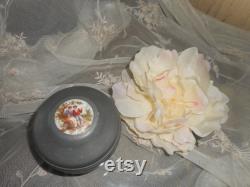 A delightful vintage find is this musical powder box with a porcelain inset on the top of the lid. Brushed aluminum finish on antiqued finish gold filigree legs with the recessed top for the lady's powder puff. In very good vintage condition for the age.
There is one narrow scratch on the porcelain across the lady and lads' chests. This is shown in one of the photos. There are a couple of very teeny tiny dings in the metal base.
They are so small, i had to really look hard to find them. The top shows a few white marks on the aluminum. There is a wind up music box mechanism on the bottom wooden base. Someone wrote "wind up" in pencil on the bottom.
This adds to the piece's charm and it's story. The porcelain inset is 1 1/2 inches round and shows a lady and a lad standing under a fig tree where the lady has been gathering figss and putting it in a basket that is lying on the ground. The music box plays great and plays the song: make me a figgy pudding. Now the story is complete, the music tells us the lady has been gathering fruit from the fig tree they are standing under and the lad is asking her to make him a figgy pudding from the fruit. Perfect for shabby chic, french romantic, hollywood regency and victorian decors.
Every room where a touch of vintage charm and beauty is appreciated. Dimensions: 3 1/2 inches diameter.
3 1/2 inches tall inches. There is a little wire loop on the top rim which used to start the music when the top was removed but this no longer works. Music plays from the wind up mechanism of the bottom of the base.

---