Vintage Porcelain Powder Jar with 8 ounces of Handmade Body Powder and Handmade Puff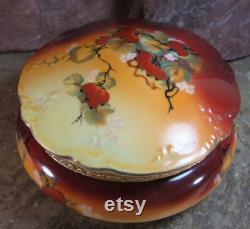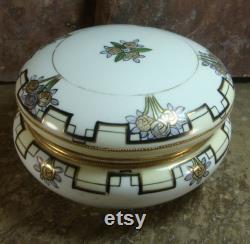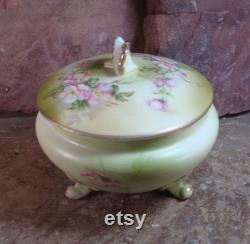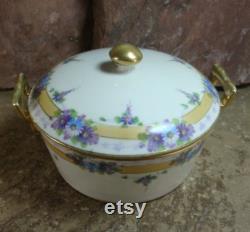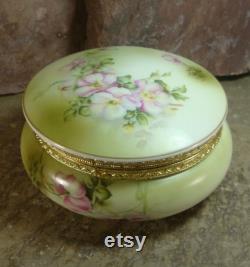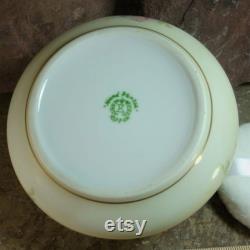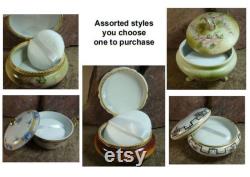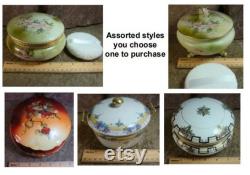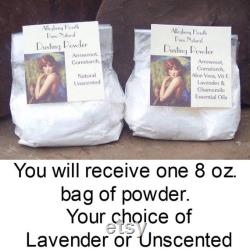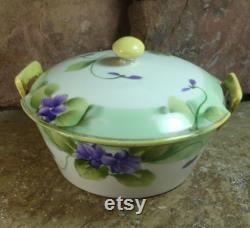 My own formulated silky dusting powder and velour powder puffs presented in assorted vintage hand painted porcelain vanity jars will be an elegant addition to your boudoir. This silky blend glides over your body for a soothing, gentle treat. The classic velour style powder puff as shown is included and is the perfect applicator for a touch of glamour recalling the charm of by gone days.
These jars measure between 5 and 6 inches across. Due to the size of the openings of these vintage powder boxes, the puffs are smaller than my other handmade puffs and measure between 3 and 4 inches across.
Please note, these powder dishes are true vintage pieces. I search the markets, estate sales and shops and pass my finds along to you. All of them are used and may show minor wear from decades of loving use. You may notice slight "wear" of the delicate touches that occurs with normal use. Some have markings on the bottom, some don't. I clean them carefully before packing and make sure there are no major flaws. I usually only have one of each style/color as shown. There are no cracks, chips or damage that would affect the use. The most common wear is on the "gold" accents, they tend to wear away easily but the classic beauty and function of these dishes are in tact. The talc free dusting powder is made with all natural ingredients of arrowroot and cornstarch. The addition of lavender and chamomile pure essential oils provides a delicate fragrance that is suitable for daily use. I offer both the lavender chamomile and fragrance free versions of my handmade body powder so you can choose your preference. My hand crafted body powders make a wonderful gift for new moms, teachers, bridal parties and grandmothers. Indulge in a classic, soapsmith's finest bath and body powder presented in these lovely vintage frosted glass powder dish. Visit my studio for other versions and styles of vanity powder jars as well as a nice assortment of glass powder shakers. Refills are available in either lavender chamomile or unscented. Price is for your choice of one covered powder dish as shown, one 4 inch powder puff and one 8 ounce bag of handmade dusting powder. The photo shows two bags of powder, illustrating your choice of unscented or lavender chamomile. You will receive one 8 ounce bag, your choice of lavender or unscented. Ingredients: arrowroot, modified cornstarch, aloe leaf extract with vitamin e, lavender and chamomile essential oils.
This item is made of arrowroot and modified cornstarch, aloe leaf extract with vitamin e, lavender and chamomile essential oils, porcelain vanity jar, handmade velour puff.

---