Vintage Porcelain Trinket Box Hand Painted in Macau with Asian Figures on Lid and Multi Colored, Raised, Floral Base.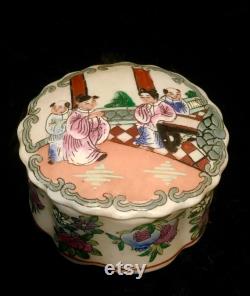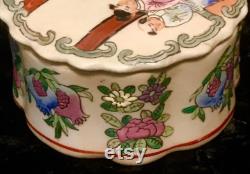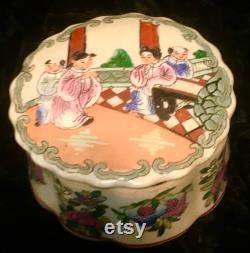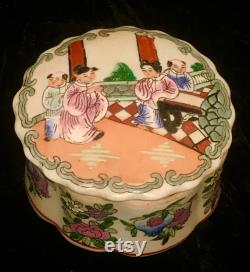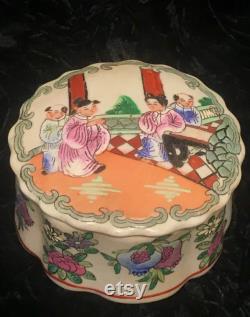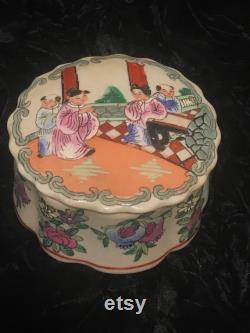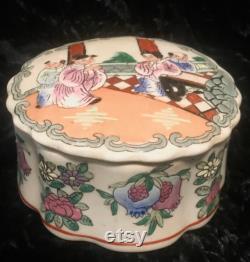 Vintage porcelain chinese hand painted, trinket or dresser jar. Made in macau and hand painted by artist. The hand painted outdoor scene featuring two men and two ladies dressed in oriental clothing in natural surrounding. Raised and etched designs in bright multi colors make this one a true stand out the bottom is decorated with intricate, multi-colored florals and fruit painted on to a gold gilded background.
So many purposes for this elegant simple box. Elegant and romantic, it holds the energy of secrets from the past as it waits to adorn your vanity adding beauty, elegance and a touch of history from a bygone era. It stands approximately 2.25 tall with lid x approx 4.75 wide across the lid. The lid has a scalloped rim. It's in near excellent condition.
The inside is highly glazed. Used as a trinket box or given as a gift to someone special, you'll love it. This item is made of porcelain.
The style is victorian and renaissance.

---