Vintage Powder Trinket Box, Extra Large Glass Powder Box, Sterling Top with Monogram A, Whiting Sterling, c. 1920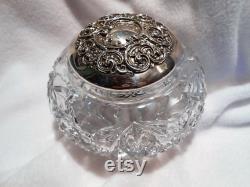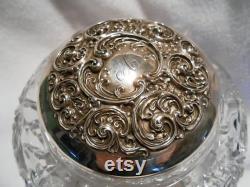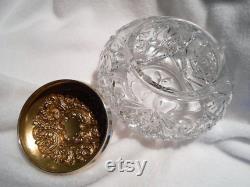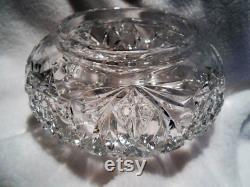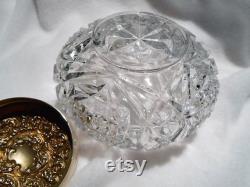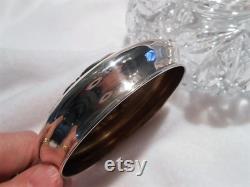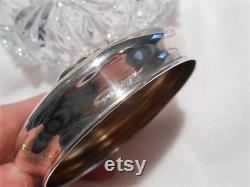 What a beautiful crystal box to put buttons that pop off, earrings that must come off at days end, change that never has a true place, pins that you think you'll need but never use, and all other manner of items that never seem to be found when you need it until you put it in here wish to put powder in here certainly. Pressed glass pattern has one minor flea bite that i can feel measuring less than a 1/16 within a pattern. I had to run my hand ver the area multiple times to be certain it was there.
Now, the lid sits inside the lip of the jar. Typically, the lid would sit over the lip of the jar.
Is this intentional a marriage of sorts i do not know as the lid fits perfectly. Sterling lid is fully hallmarked sterling 5702 with the number 100 under that mark. On the opposite side of the the lid is the griffin with his paw on the w for whiting silver. Scroll and beaded latticework pattern grace the top. Two minor dings in the top.
Box is just under 6" in diameter and 4 1/2" tall. This item is made of sterling and glass.
The style is art deco and cottage chic.

---