Vintage Vanity Powder Box, Celluloid Plastic Cosmetics Container, Two piece Vanity Storage, Art Deco Era Design, Lightweight Talcum Box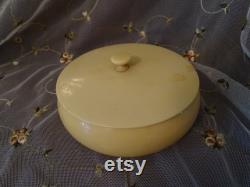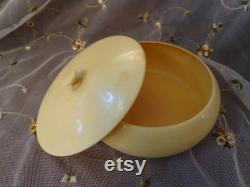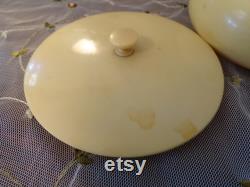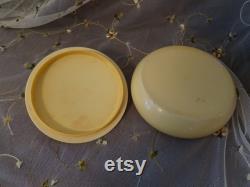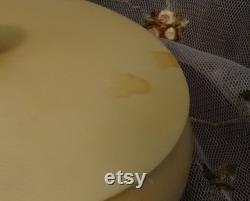 A vintage powder box can change the look of your dresser for vanity in an instant and this art deco era one has such a pretty shape. Made circa the 1930's when a ladies dressing table had coordinating jars and boxes to hold her cosmetics and more, this one is made of honey yellow celluloid plastic. Quite generous inside, it now can hold your cotton balls, hair clips, or whatever you desire. Measuring 4 1/2" wide, it is 2" high to top of knob and 1 1/2 deep without. This lovely piece of the past is in charming vintage condition with a few stains from long ago on the lid that shows it's life before you.
Go vintage girl vintage never goes out of style. Please remember vintage treasures are rarely new. Each one carries some trace of those who have loved and treasured them in their past life. Discovering a vintage find for yourself or as a gift is the best way to give it another life. As with all vintage or antique items, this piece may have little signs of wear. Please check out all of my photos to see condition, age and design and see for yourself how charming this vintage piece really is. I'm always happy to answer any questions.

---