YARDLEY Vintage 1940s White Cardboard Powder Pot With Gold Foil Raised Bumble-bee Motif On Celluloid Flower Lid Rare Collector's Item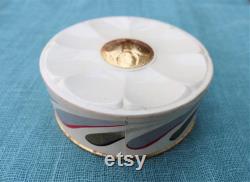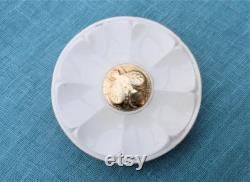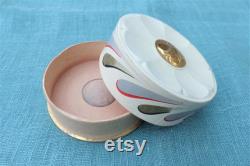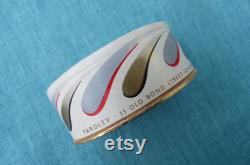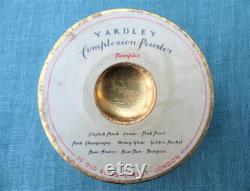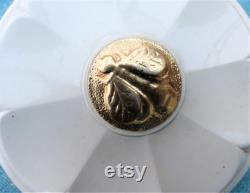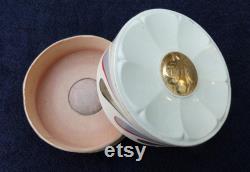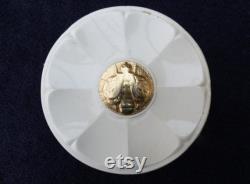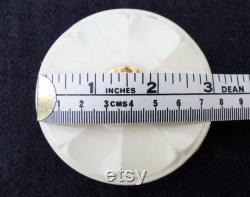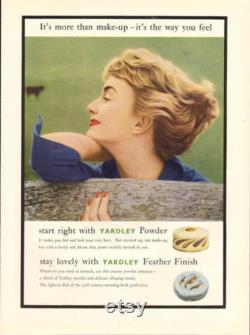 (any queries from the eu, please don't hesitate to get in touch). Here is a fabulous item from the 1940s yardley cosmetics company - a beautiful powder box with a raised gold foil bumble-bee motif in the centre of the celluloid plastic flower lid (other versions of this pretty powder container to be listed this week) this contained powder in the'tampico' shade, according to the original label on the base. This was a circular container to keep on your dressing table, as opposed to a compact kept in your handbag, and there would be a seperate powder puff to apply the powder to your nose. This circular box measures 7.7cms in diameter and nearly 3cm high (that's 3" x 1 3/16") i love this for its beautiful gold raised bee design, and the pretty swoosh pattern around the sides - alternating silvery-grey and gold with red and blue edges. Around the bottom of the sides is written'yardley.
On the base, there is a gold foil circular indent in the centre and the words'yardley complexion powder tampico' and under the gold spot a list of all the different shades this powder came in:- english peach; cameo; pink pearl; pink champagne; honey glow; golden rachel; rose amber; rose tan; tampico. The magazine advert in my last photo is from a 1956 edition, which gives us the era from which these date. The different designs that are available in the vintage market mean they probably come from the late 1930s/early1940s to the early 1950s. This is in pretty good shape for nigh on 70 years old, and considering it's made of cardboard, albeit good quality cardboard, i think the condition is excellent the celluloid flower petal lid is in lovely condition as is the beautiful gold foil bee in the centre of the flower.
This is an empty container, which has a few vestiges of the original powder in it. Yardley of london, usually referred to simply as yardley is an international english-based company and one of the oldest firms in the world to specialise in cosmetics, fragrances and related toiletry products. Established in 1770 by the cleaver family, yardley was a major producer of soap and perfumery by the beginning of the 20th century.
By 1910, it moved to london's bond street, and in 1921 yardley received its first royal warrant. Today, yardley holds two royal warrants. Astoundingly, according to the company's website, an earlier incarnation existed prior to 1770, but most records of the earlier company were lost in the great fire of london in 1666 - wow. The company became yardley & statham in 1841 when charles yardley, the son of william, took on william statham as a partner in the business.
In 1851, the company, still known as yardley & statham, exhibited at the great exhibition in the crystal palace. That same year, the company changed its name to yardley & co. Yardley & statham exhibited soap and perfume including a soap called old brown windsor, which was embossed with a picture of windsor castle and was one of their first production soaps.
In 1967, british model twiggy becomes the face of yardley. Yardley became a symbol of "swinging london" and was associated with the 1960s british youth culture of miniskirts, carnaby street and mod fashions.
How things change - in 1998 yardley was placed into receivership after a year of marketing attempts to update its old-fashioned image. Britain's fifth richest indian family, the jatanias, bought out yardley in october 2005 for 60 million and integrated it into its lornamead company. This item is made of cardboard and celluloid plastic.

---